Colorado Railroad Museum
Where visitors have been losing time for 50 years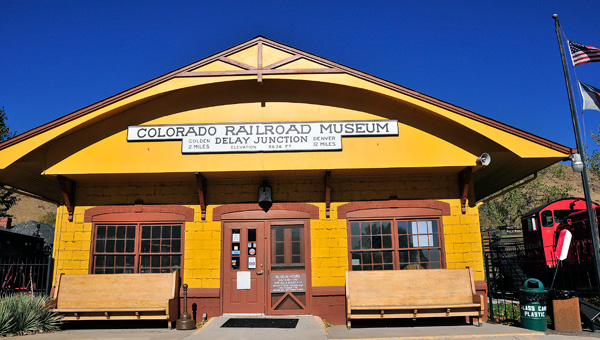 This is the motto Cornilius Hauck and Bob Richardson coined for the 15 acre train museum they founded in 1959 in Golden, Colorado.
A snow storm up in the Rockies had I-70 snow covered, slippery and down to one lane of travel preventing us from traveling over the Continental Divide to Utah this day, so we spent a good part of it at the Colorado Railroad Museum. We have been to few railroad museums before, but none like this one. What we thought would have been a 90 minute visit at best turned into nearly 5 hours. And did we learn a lot about Colorado railroad history.
Starting in the mid 1800's railroads have played a major role in the development of Colorado. While standard railroad gauge, the width between the tracks, is 4 feet 8-1/2 inches, Coloaro's mountainous terrain made many railroads in the state use narrow gauge tracks, just 3 feet wide.
Over time, roads, better track building methods and standardization forced out most of the narrow gauge rail equipment in use. Slowly these relics were consumed by scrap dealers and nature. But thanks to the foresight of Cornilius and Bob many of the old locomotives and cars were saved and are now on display at the Colorado Railroad Museum..
Before you get to enter the train yard one must go through the gift shop to check out the souvenirs and train related items available. Then through the main museum building.
Pay the entry fee then stroll the 2 floors that house many historic items. Be sure to take the time to read about the displays, for a good bit of time and effort has gone into explaining each dispaly.
Head downstairs to see the HO model railroad that began it's life in 1968 and is still growing. Go ahead, deposit a quarter to make the trains run their course.The ride lasts for a full three minutes. Be sure to pay attention to the display as the trains circle the tracks for many interesting things happen.
Once you have run out of quarters and checked out the all displays and the very large scale model engines, (allow about one hour to take it all in), head out the side door to the trains.