Golden Spike Tower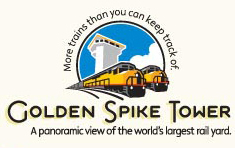 Rising 8 stories above the 2,850-acre Bailey Yard in North Plate,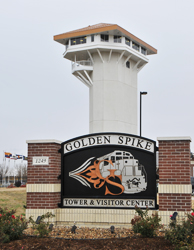 Nebraska is the Union Pacific Railroad Golden Spike Tower. North Platte is located where the North and South Platte Rivers meet. Even before it became a town in 1874, North Platte was a railroad town.
From 1941 until 1946, during World War II, the town's depot was know as the North Platte Canteen where volunteers served coffee, sandwiches, cookies and other goodies 24 hours a day 7 days a week to over 6 million service men and women who were traveling through Nebraska by train.
It was damp and stormy day when visited the Golden Spike and visibility was next to nothing with the wind driven rain pounding against the glass of the west and north side of the 8th floor observation room. The view of the 8 mile long yard was greatly obscured by the weather. However on duty that day was retiree Charles Grigsby who was a walking encyclopedia of knowledge.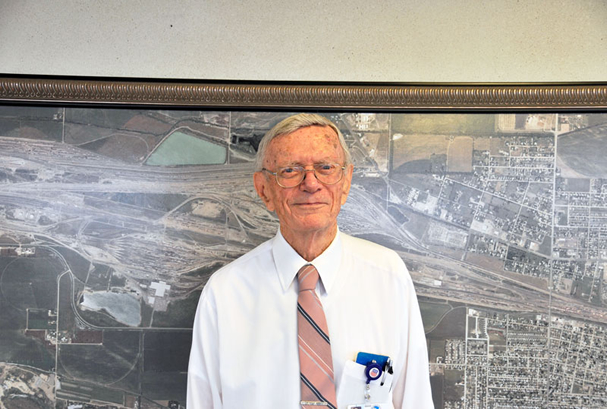 It was Charles, pictured above, who filled us in on the details of the Bailey Yard. It is here where trains heading both East and West are assembled and their engines fueled and serviced.
Charles is standing in front of an aerial view of the Bailey Yard and if would move just a bit to his left, the Tower could be seen. It is behind his right shoulder.
Each day 130 trains consisting of around 10,000 rail cars pass through Bailey Yard. Of those 10,000 cars at least 3,000 of them are removed from the trains which brought them to the yard and are "Humped"
Humping is the process in which the cars are moved from the main track down "humps", weighed and automatically switched onto one of the 75 Westbound or 26 Eastbound tracks to make up new trains.
One very interest fact we learned from Charles is that by Federal Law trains are limited to a maximum of 130 cars in lenght.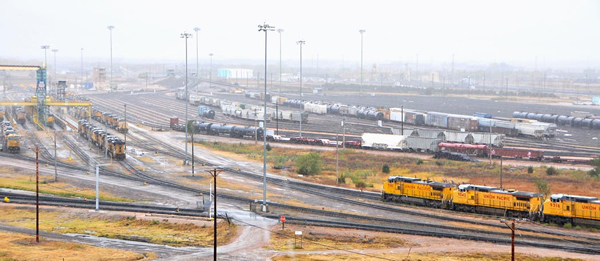 The 8 mile long 2,850 acre yard has 301 rails that if they were laid end to end the track would stretch 315 miles, from North Platte to past Omaha, Nebraska. 985 switches are needed to route the cars onto the proper track.

The diesel shop's 700 employees service up to 300 engines per day. 14 million gallons of fuel is pumped each month along with tons of sand which is used for traction. 10,000 pairs of wheels get replaced and 750 locomotives are overhauled each year.
The Bailey Yard is a 24 hour a day, 7 days a week, 365 days a year operation requiring 2,600 dedicated employees.
Since the Golden Spike Tower was completed in June of 2008 it has had over 80,000 visitors making it main tourist attraction.
North Platte is full of interesting place to visit including Buffalo Bill's ranch. For the those who are interested remnants of the Oregon Trail can still be seen below the bridge at the 177 exit off I-80.
Take the time to visit the Golden Spike Tower the next time you are traveling across Nebraska on I-80. We are glad we did.