The John Deere Pavilion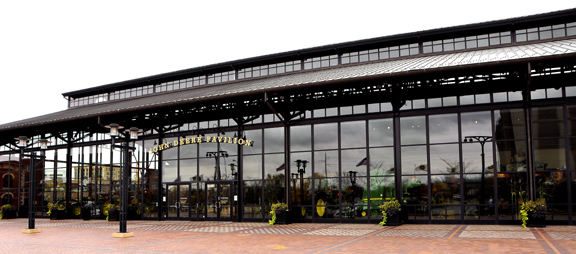 In 1836 a blacksmith by the name of John Deere moved from Vermont
to Grand Detour, Illinois and a year later he made a plough from a broken saw blade. What made this plow so superior to other plows of the day was it self-shedded the gummy "Gumbo" prairie soil. Prior to his discovery, farmers had to stop every so often to clean the dirt off their cast iron plows which greatly increased the time needed to plow their fields.
It did not take long for the word to spread about Deere's plow and soon his friends and neighbors were asking him to make one for them. Then farmers across the Midwest were asking for the "John Deere Plow." By 1842 Deere was no longer blacksmithing, he was in the plow manufacturing business. For the first 5 years Deere's plows were made in Grand Detour. Then in 1847 the leaders of Moline, Illinois offered the Deere Co. free power for 5 years which lead to Deere building a new factory on the shores of the Mighty Mississippi River.
In 1993 ground was broke for the $50 Million Dollar Quad Cities Riverfront Project. While the renewal program was designed around building a World-Class entertainment and conference center, it has been the John Deere Pavilion that has taken center stage.
Since it's opening in 1997 over 1.5 million people have visited the Pavilion and today we have added to that total.
Upon entry a very delightful "young" lady greets each and every visitor with a "How are you" followed by "Thank You for coming." You are requested to sign the register as you are being asked "where are you from?"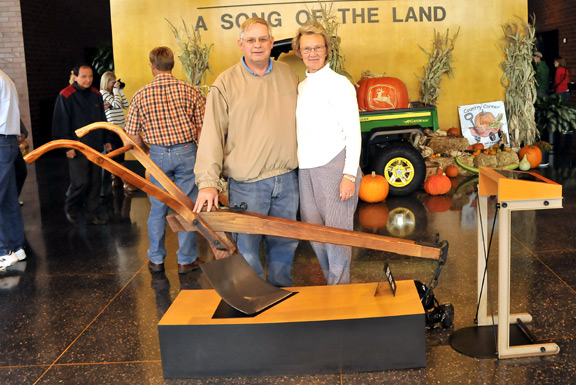 The Pavilion is not extremely large but it does hold a lot of John Deere history. Positioned in the center of the Pavilion is a replica of the very first plow that made John Deere famous. One of the Pavilion's employees is always close by should one wish to have their picture taken with this piece of history.
To keep the exhibits fresh the equipment on display is constantly changed. Of the 16 tractors on display this day there were several very unusual and interesting ones.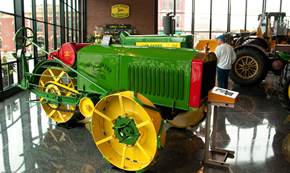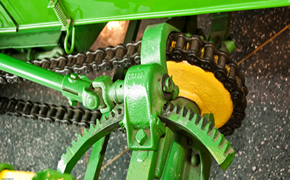 Starting with John Deere's first production tractor, a 1919 All Wheel Drive with Rack and Pinion Steering. All three of it's wheels were driven, providing increased traction. 100 AWD's were produced at the 10th Street factory.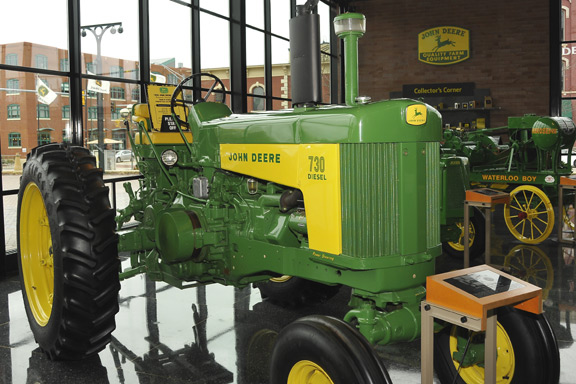 Of the nearly 30,000 diesel Model "D" produced in Waterloo, Iowa from 1959 through 1961, only 3,703 equipped with the optional gas starting engine. This is one of them.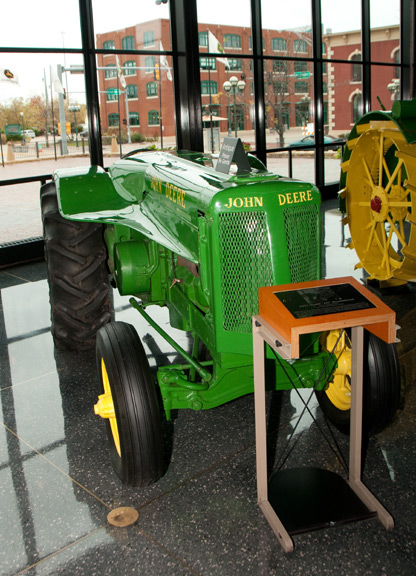 The "AO" Streamliner Orchard Tractor, of which only 820 were made, was designed to not only to protect the trees from the tractor but also to protect the tractor from the trees.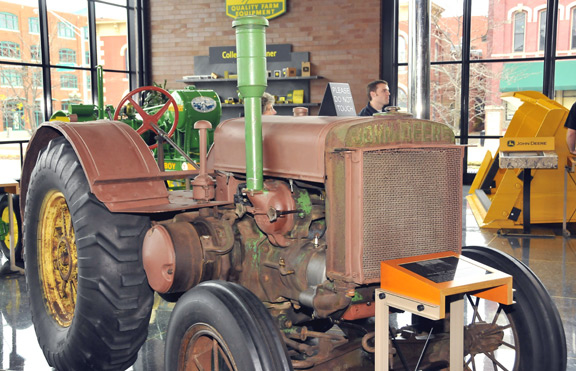 Until the Great Depression took it's toll on sales nearly 24,000 Model "D"were made. About 1,700 were exported to the Soviet Union. This one is still in it's "original work clothing."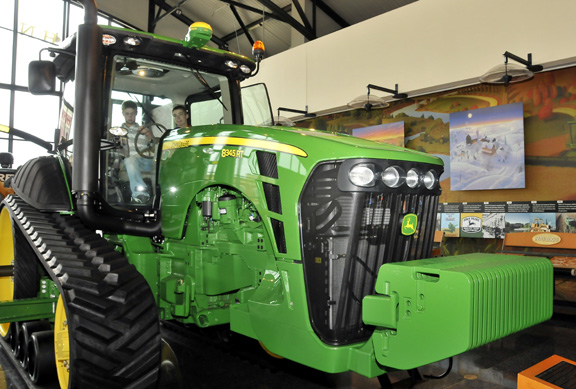 For some real Heavy Duty farming and for a mere $280,000.00, the 8345RT Track Tractor can be yours. The 2 young men in the cab spent an good deal of time checking out the controls. We think if the keys were available they would have driven it home.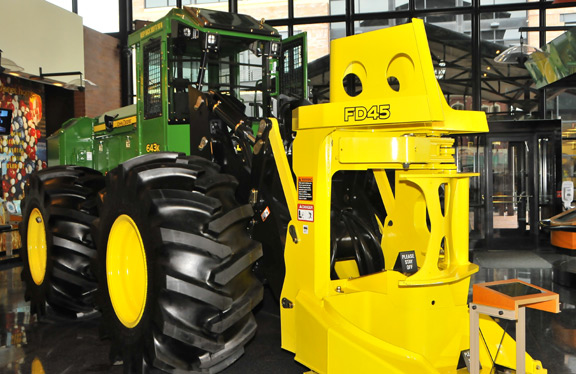 For the woodsmen out there here is the $275,419.00 Feller Buncher. It grabs, cuts down and strips the branches off a tree before you could even start your chain saw.
To see our favorite tractor on display and to learn more about the John Deere Pavilion, click here to go to Page 2.