Oatman, Arizona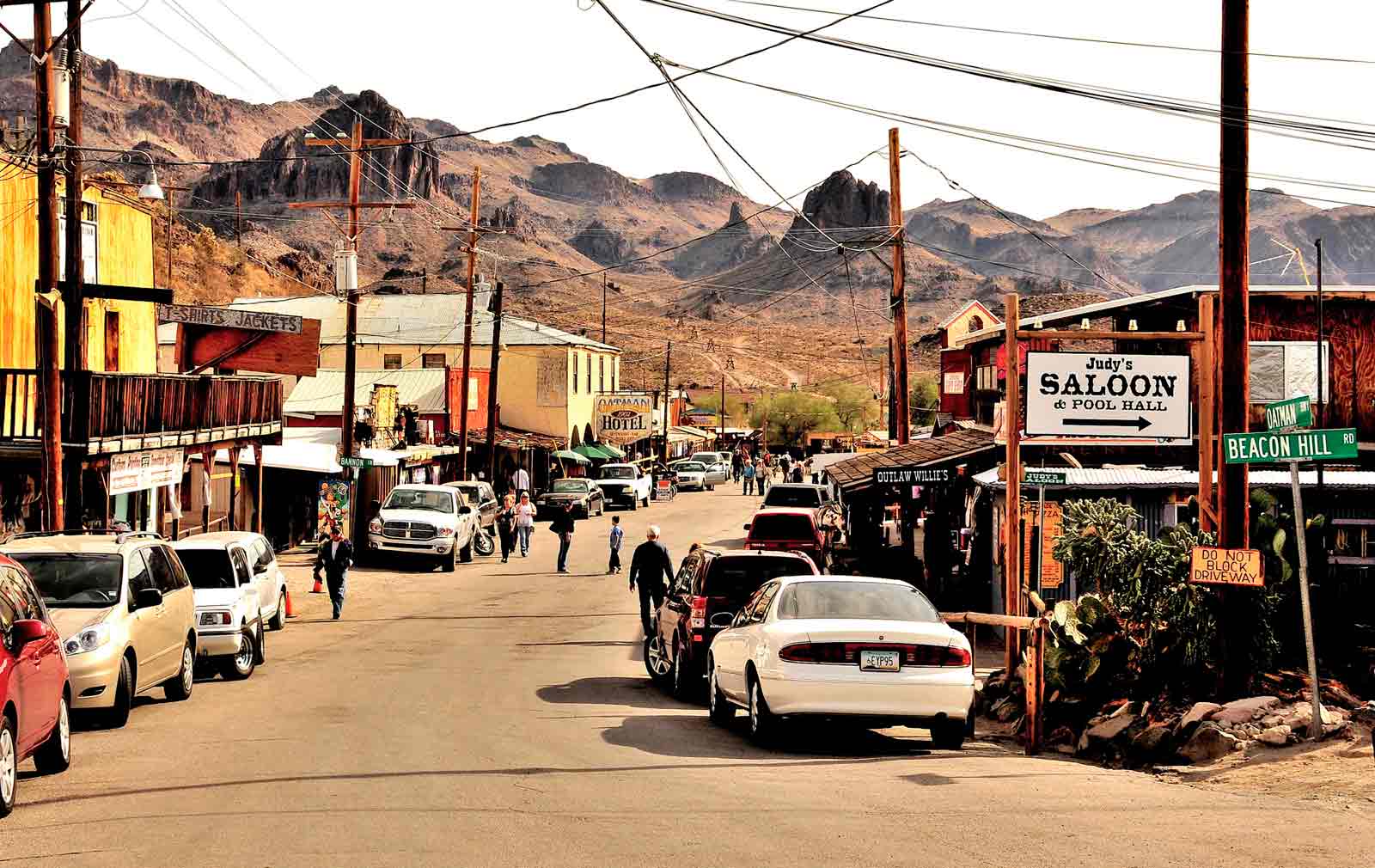 Come on now be honest, ever since you heard the Eagles singing
"Take it Easy" and found out there really is a Winslow, Arizona haven't you wanted to go there and stand on a corner? Well we have been there and we have stood on a corner. But we are not sure if it was "The Corner".
Even as exciting as that was, one of the real experience we found along Old Route 66 is a couple of hundred miles further west in Oatman, Arizona.  Oatman is pretty easy to get to, simply jump back onto Westbound I-40 and drive pass Flagstaff and Kingman then get off at Exit 44. Hang a right and then about a ¼ mile down the road hang a left onto one of the remaining sections of the original Route 66.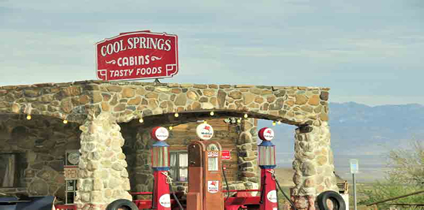 The first few miles of your adventure follows a fairly straight piece of road that passes the Cool Springs Gas Station. Way back in the good old days here is you would fill her up and enjoy a fine home cooked meal. And if you wanted to wait until morning before tackling the Sitgreaves Pass, rent a cabin and get a good nights rest.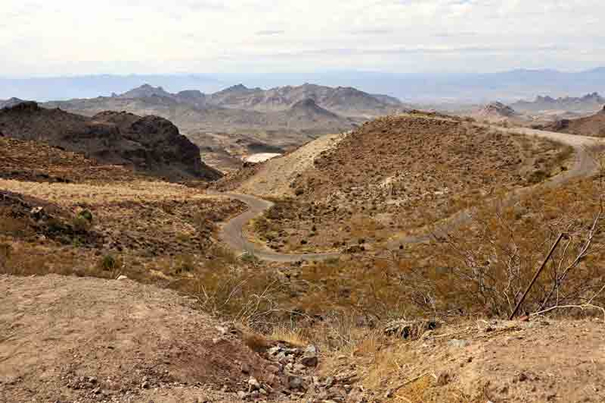 Then the climb up the Black Mountains begins. This road is anything but straight. Hang on and driver keep your eyes on the road, wrong time to answer the cell phone.  Along this stretch of road there is a sign informing drivers of vehicles over 40 feet in length not to continue. Believe it, for within a very short distance you find out why. Do not even think about being a tough guy and attempt to haul the 5th wheel up this road because there is nowhere to turn around and you will not make some of the curves.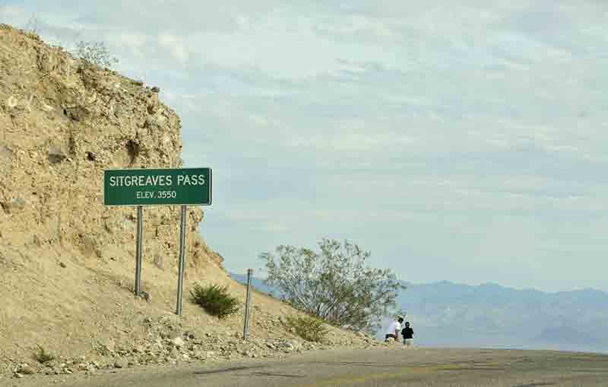 Prior to the early 50's when this was the main East West road, tow trucks would be stationed on both sides of the 3,550 foot high Sitgreaves Pass to help those vehicles that over heated during their climb up the mountainside.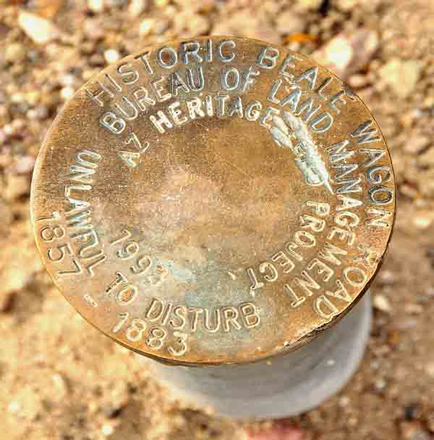 Stop when you reach the pass and get out and view the country around you. Take a good look at the road as it twists and turns up the mountain. Think about how the motor vehicles of the 20's through 50's followed the same route as did horse drawn wagons. This was part of the historic Beale Wagon Road. Look amongst the old foundation along side the road for the marker.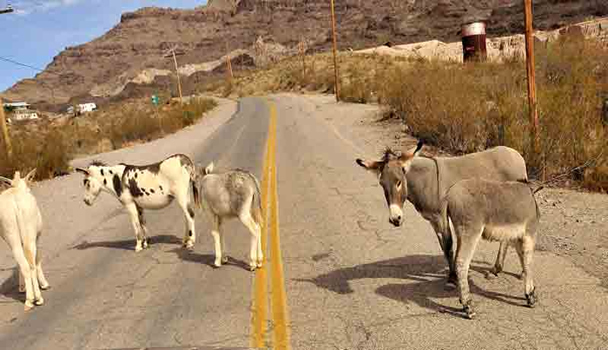 Once you cross over Sitgreaves Pass Oatman is not far down the hill. But be aware of the donkeys as you motor towards town, they not only roam free, they have the right of way. They love standing in the road. We really think they enjoy making people look like a relative of theirs. Get it?
When you arrive in Oatman you may feel as though you are in the middle of no-where, but that is a bit further down the road. Oatman was once a thriving gold mining town until the start of WWII. The final abandonment came in the early 50's when a new easier route between Kingman and Needles, CA was built.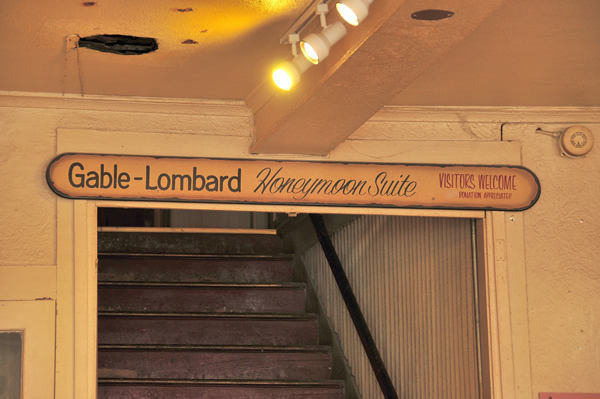 Oatman today caters to tourists and we will say they do a pretty nice job of it. Many fine craft shops that are filled with reasonably priced local made goods line Main Street. The Oatman Hotel is where you can visit the honeymoon suite of Clark Gable and Carol Lombard.
The Mission Inn Restaurant on the opposite side of the street serves up some mighty fine vittles, the chili taco was our choice. Not only does it have a very interesting decor but also a very eccentric owner. The town people are as friendly as they get. Just about every one says "Hi" and asks how your trip is going. They will stand and talk to you all day long if you let them.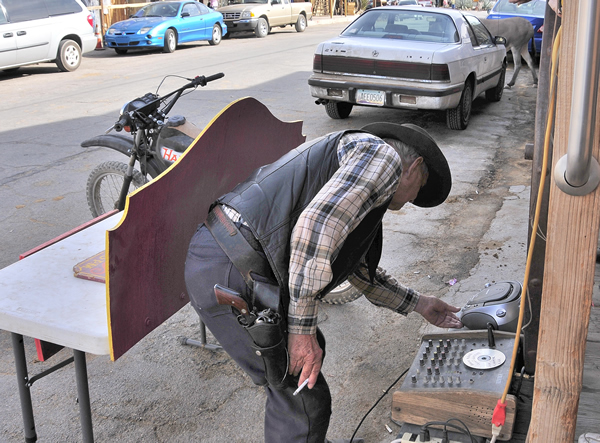 To give you the Old West feeling every couple of hours or so traffic is stopped as the crowd gathers in the street to watch a recreation of an Old West gunfight. It is a real treat watching the old geezer all dressed up as a gunfighter messing with the sound system.  We'll bet he has done it a thousand times but he acts as though this was his first time. We think it is part of the show.   And yes, the bad guy loses.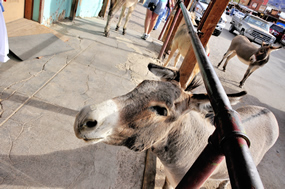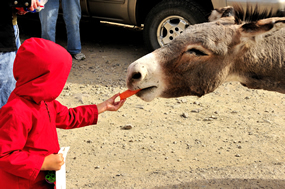 Again burros are everywhere in the road, on the sidewalks and if you are not careful they will get into your car. All they want is a little "burro chow" which you can buy from several locations. Trust us, they will become your best friend.
Once you have checked out the gift shops and have watched the shoot out and dodged enough burros get back in your car and keep heading west. The middle of nowhere is about 10 miles south of Oatman. Don't worry you will know it when you get there. Do yourself a treat and stop. Turn off the engine and get out. Look around you. Can you just imagine driving across this desert in the cars of old? What a trip it must have been with summer temperatures in the triple digits and freezing in the winter. No air conditioning and face it, not much of a heater either.
One last thing, keep your eyes open for tarantulas.
At the intersection of Route 66 and Hwy 153 take Route 66 to get back to I-40 or 153 to Bullhead City.
Enjoy – we did.