Fishing with O'Neill and Captain Kalbfleisch
I am not sure if O'Neill thought Mike was a good fisherman or he was
sorry that Sandy could not make it to the last filming. But no matter what the reason was, we were invited back to film another O'Neill Outside TV Show. This time it was at Titusville, Florida on the Indian River with Captain Keith Kalbfleisch of Saltwater Adventures.
Once again our target was Red Fish. Even though were were in brackish water, sharks are known to venture into these waters and we had caught enough sharks on the first trip to last a lifetime. A few Red Fish would be nice.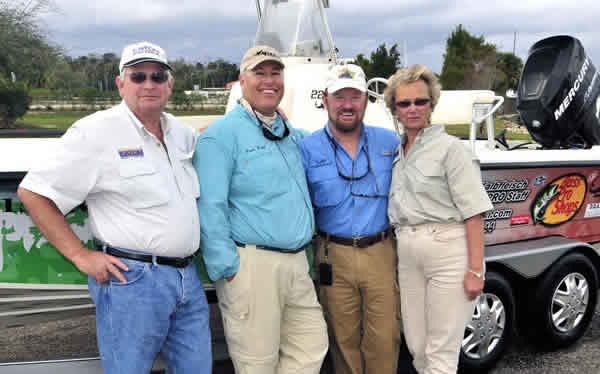 We all met at the Titusville Marina, launched the boat and cruised down the Indian River until we were just North of the NASA Causeway.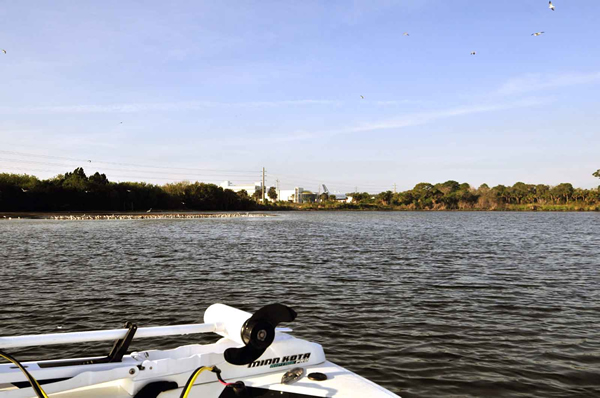 How cool is this, we started fishing in the shadow of the NASA Visitor Center were the water is no more than 2 feet deep. On the oposite side of the river, and within sight, is the launch pad for the Space Shuttle.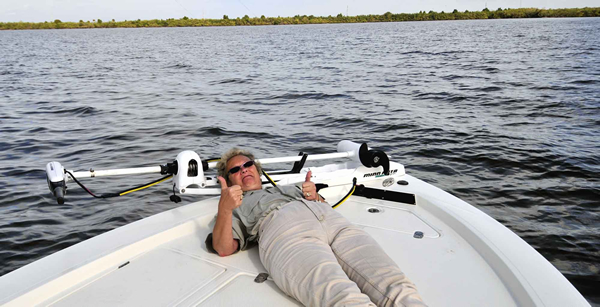 The appetite of a fish is the one thing fishermen can not control, and this morning they were not hungry. So after a couple of moves and still no action some of the crew took advantage of the quite time.
During the nearly 4 hours of no fish Jeff, the cameraman, filmed some of the stories O'Neill, Keith, Sandy and Mike were swapping. These stories alone would have made for a very interesting show and there would have been no need to add a laugh track.
We were on the verge of calling it a day when all of a sudden Mike's line started running out. A fish had taken his bait and it did not take to long before everyone realized it was a BIG fish.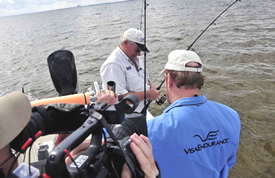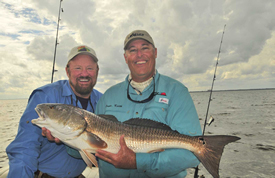 When a Red Fish starts to run with your bait you give the line a jerk to make sure the hook is set and start reeling it in. You reel until they decided they do not want to come aboard and they make a break for it. Then you just stand there as the fish pulls out all the line you had just reeled in. Once they stop running, you start reeling again. And they like to play with you, for as you get them close to the boat, off they go again. You continue to play this game until they are tired out then you bring 'em aboard.
Mike and the fish played this game for quite a while, but at the end Mike won and a Red Fish of just over 30 pounds was brought on board. Notice how O'Neill made sure he and Captain Keith were photographed with Mike's fish? TV personalities, always making sure they grab the spotlight !!
Once the fish was let go, O'Neill and Captain Keith did a segment in which Keith showed O'Neill, Mike and the TV audience how he ties the bait to the barbless hook while Sandy kept right on fishing. Just as Captian Kieth was wrapping up his demostration Sandy called out "I got one"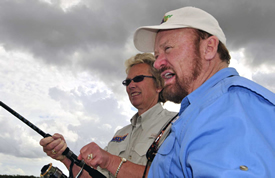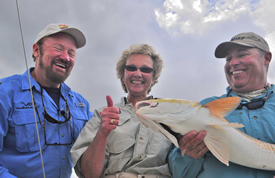 All the attention and the camera turned to her and over the next ten minutes she proved to the fish that women are superior. Once the 13 lb'er had been landed, Captain Keith gave a brief biology lesson by explaining how one can tell the sex of a Red Fish. (watch the show and learn how)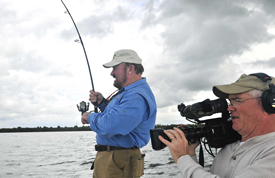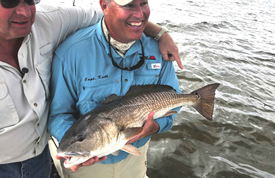 We had been fishing for just shy of 4 hours without even a nibble when Mike hook his 30 lb'er. Just a few minutes later Sandy caught a 13 lb Red. O'Neill, being the host of the show, thought it may be a good idea if he caught a fish. And it did not take him long to do so for within a couple of monents after relasing Sandy's fish O'Neill hooked one.
While it is always a good idea to let the host in on some of the action, there is nothing wrong with grabbing the spotlight from him. That's Keith and Mike with O'Neill 22 lb Red Fish. (remeber O'Neill had his picture taken with Mike's fish)
As the day's fishing was coming to an end tragetry struck. It was caught on tape and can be seen at the 5:30 mark on Sandy's segment of the show. You will have to watch the video for the tragetry is just too brutal to describe here.
After a fishing adventure like this one a good filling lunch was needed so up US1 to Garden St to the World Famous Dixie Crossroads we went. This is a MUST eat at place.
Overall we had a GREAT time. Captain Keith knows the waters and he sure knows the fish. If you are looking for a good time in the Titusville, Florida area be sure to arrange a 1/2 day out fishing charter with him.
| | | |
| --- | --- | --- |
| | | |
| St. Simons Island, GA | | O'Neill and Gail |
| | | |
| Barataria, LA | | Clarkesville, GA |