Fishing at St. Simons Island, GA.
Fishing and filming with Captain Mark Noble and O'Neill Williams starts
real early in the morning. We were up and at 'em having breakfast at the St Simons Island Waffle House at 5.30am. Nothing like a WH All American Breakfast with a side order of grits to fill ones belly for a morning on the water. Just be sure to limit your intake of coffee.
Then it was off to the marina to board one of Marks boats so we would be on the water just as the sun was starting to rise.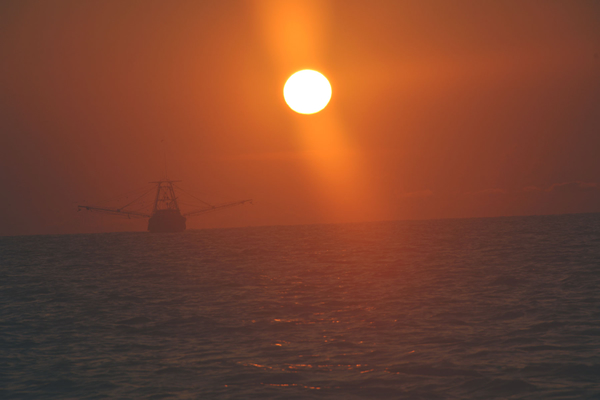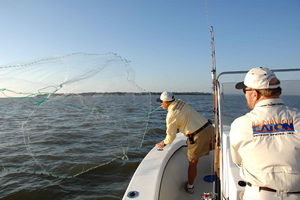 No matter who the Captain is, no fish can be caught without bait, and a good Captain knows how to get his crew some.
It only took Mark 3 tosses of the net to catch enough bait for the mornings fishing.
Once the lines were in the water O'Neill set his hook first. Although we were out to catch Red Fish, it was a 6 foot sting ray that took O'Neill's bait. For the next one hour and ten minutes O'Neill, ever so slowly tired out and then, with the help of Mark, landed the ray. Don't worry, everything was catch and release.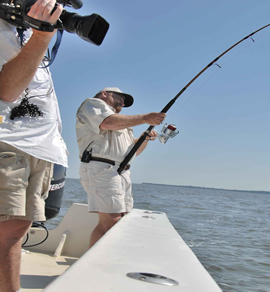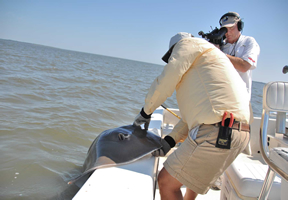 The ray was just the start of the action, most times 2 rods at a time were catching fish but many times all three lines were in use. Again we were after Red Fish but this morning it was one shark after another. We landed about twenty 2 t0 4 foor long sharks before we caught our first Red Fish.
Due to all the action not many still pictures were taken. However, lots of tape was shot which created one mighty fine O'Neill Outside TV Show. Go watch the complete TV Show on our Video page.
As we passed the noon hour it was decided that enough fun was had by all and we weighed anchor. It was then Captain Mark spotted a school of Jack Creveils off the starboard bow.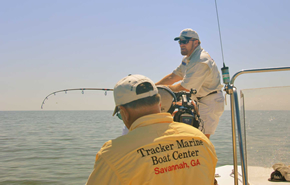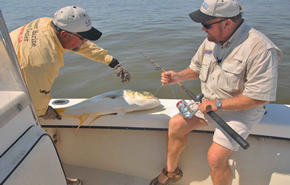 Both O'Neill and Mike cast their baits towards the school. O'Neill's pole bent when the Jack took his bait. For the next 40 minutes O'Neill reeled the line in only to watch his line play out again as the fish did his best to get loose of the hook. It was a losing battle for O'Neill brought the fish to the net.
Even after nearly 45 minutes of O'Neill fighting to land his fish the school was still circling the boat. Grab a pole Mike, cast into them......YES a hit !! OH boy, it's a big one !!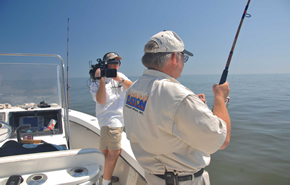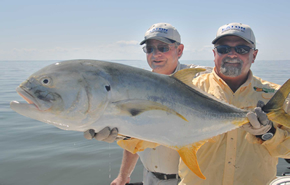 Hold lunch, we may be a while. Darn near an hour late, for this big boy put up one heck of a fight. Five times Mike reeled him close to the boat only for the Jack to find some fight still left in him. The sixth time he was ours - 40 lbs of Jack Creveil.
If you are ever looking for an expert fishing guide on St. Simons Island, Captain Mark Noble is the man you want. He has great equipment. He knows the waters and he knows where the fish are. And he knows how to catch them.
A great time was had by all, we wished that Sandy could have been there with us.
Now go watch the video of the actual TV Show.
| | | |
| --- | --- | --- |
| | | |
| O'Neill and Gail | | Titusville, FL |
| | | |
| Barataria, LA | | Clarkesville, GA |