Peach Street Distillers
Located just 37-1/4 miles from the Utah boarder is the town of
Palisade, Colorado. At an elevation of 4,700 feet Palisade is blessed with abundant sun shine, making the area a near perfect place for growing fruit. A feature of fruit grown in these desert like conditions is it has a better concentration of sugar which allows for the distilling of some superior adult beverages.

Three friends with a penchant for hooch, Rory Donovan, Dave Thibodeau and Bill Grahm, founded Peach Street Distillers in 2005. The three have been brewing beer for a number of years at the Ska Brewery in Durango, Colorado. Rory told us they had attended a seminar on distilling spirits and felt the stuff they have been making on the side was much better than the lecturers. So they came home and established Peach Street Distillers.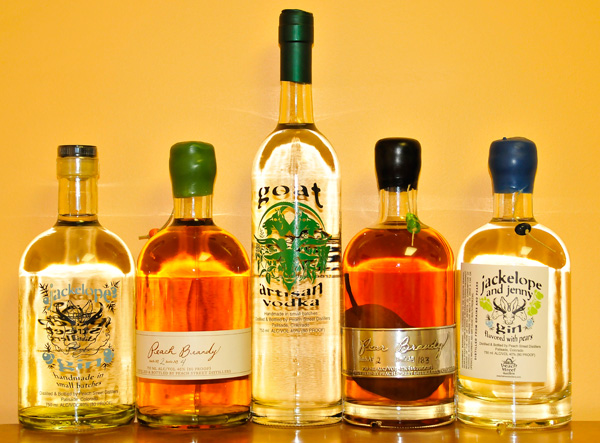 While the Jackelope and Jenny Gin and both the Peach and Pear Brandy, note the pear in the bottle, would have been enough for us to rave about Peach Street, it was their Bourbon that attracted us to them.
We have been following the Kentucky Bourbon Trail but wanted to visit other bourbon distillers. Palisade is on I-70 just about 1,500 miles West of Kentucky and knowing we would be passing right by on one of our trips we contacted Peach Street and Rory welcomed us with open arms.
A very common mis-thought is that in order for whiskey to be called Bourbon it must be distilled in Kentucky. The Kentuckians may encourage such thinking but by Federal Law in order to be called Bourbon the bevrage must be made in the United States of America. It must be made from at least 51% corn along with barley, wheat and/or rye. It must be aged at least 2 years in new charred oak barrels. It cannot be barreled any higher than 120 proof and it cannot be bottled any lower than 80 proof. Nor can any color or other flavor can be added.
While the Kentucky boys processes their products in batches of several thousand gallons, a batch at Peach Street is a 120 gallons.
Peach Street's total yearly production is but a few thousand gallons of Vodka, Gin, Brandy, Bourbon and Dagave.
Our extensive samplings of the products had us agreeing that Rory's statement about their distilling ability was right.

Their Vodka, Gin and Brandy are some of the best we have ever enjoyed. The quality is no doubt the result of using local grown ingredients along with the attention that Davy Lindig, the Distiller, pays to detail.

And the Bourbon is by far THE BEST we have ever tasted. It passes the lips smooth and stays smooth all the way down.

In fact Tthe American Distilling Institute bestowed on Peach Street the Best Craft Whiskey of 2009 Award.
Touring the faculty was pretty darn easy, it is one building. Production, bottling and the tasting room are all in sight of each other. It is kind of neat sitting at the bar sipping a straight up bourbon while watching another batch flowing out of the distiller.
Unlike the tours at the big boys, here you get to witness up close the complete distilling process. And if you are here at the right time you can even help make it.
We recalled how the white dog at the Kentucky distilleries flow at the rate of around 15 gallons a minute, here at Peach Street it takes an hour or so for the flow to fill a five gallon pail.
Like so many other crafted products, those made by small caring craftsmen are by far superior than the massed produced versions. One mistake we made was not buying enough of Peach Street's products. Many of our freinds back home have tasted the product and agree with us so they tasted it again, and again, and again. So we guess we will be making a return trip.
According to us, Mike and Sandy, the new official Western end of the Kentucky Bourbon Trail can be found at 144 Kluge Ave # 2, Palisade, CO 81526-9758.
Be sure to stop by, Anthony is waiting to pour you samples.